Handicap Requirements | Handicap Chairman | Posting Guidelines | Handicap Revision Schedule
All Michiana Senior Golf Association (MSGA) tournaments are handicapped and are played with USGA rules in effect. To play and compete for awards in MSGA tournaments, players must have a handicap from a system approved by the USGA. Players are assigned to flights based on their individual handicap indexes and thus compete against players of similar skill levels.

Effective January 1, 2020, the USGA combined state and local handicap systems into one system to be administered by the World Handicap System (WHS). Each golfer who is on the WHS system is assigned a unique eight-digit number. The WHS includes worldwide handicap systems so that a player has only one worldwide handicap that allows the player to play golf courses not only in the United States, but courses throughout the world that are part of the WHS.
Current local systems used by MSGA members include Indiana Golf Association (Blue Golf), Chicago District Golf Association (CDGA) and Golf Association of Michigan (GAM). Players may also use handicap systems from other state associations (for example, Florida and Arizona associations), as long as the handicaps are administered by the WHS. The procedure is that scores are collected at each golf course or via the internet each day and transmitted to the WHS overnight. The WHS returns a newly calculated handicap index for use the next day.
For those MSGA members who do not have a handicap through a local private or public golf course, the MSGA provides a USGA approved handicap system for MSGA players. The MSGA has contracted with Indiana Blue Golf to provide players with a handicap that is USGA approved. The MSGA has been established as an Associate Member of Indiana Blue Golf under the name of MSGA/Blue Golf system. All MSGA players including those outside Indiana may join the system. If a player joins the MSGA/Blue Golf group, there is an annual fee that is paid to the MSGA at the time of the annual renewal of membership (see Join MSGA tab for details).
Internet posting is available on the various handicap systems:
MSGA/Blue Golf system (players on MSGA/Blue Golf system)
If you have questions about the various handicap systems, please call Handicap Chairman, Kevin Shidler at 317-903-9706 or email.
---
Questions concerning handicaps should be addressed to the Handicap Chairman, Kevin Shidler.
Kevin can be reached by email or phone:

The Handicap Chairman's duties include:

Collecting the handicap indexes for players before each tournament (usually between 7 and 10 days before tournament). Those indexes are retrieved from the various handicap systems via the internet and forwarded to the Director of Golf to be used for producing tournament paperwork and scorecards.
Auditing the postings of players who win awards at MSGA events. Players who have not posted scores or posted scores incorrectly will be contacted via email or phone.
Randomly auditing postings of all MSGA tournament scores.
Players who consistently miss posting scores in a timely manner (within 5 days) or who consistently post scores incorrectly will be referred to the Board of Directors for review. The Board may take various actions including barring players from playing in future MSGA events.
Reporting any suspicious posting or handicap activities to the Board of Directors for review.
Acting as the Administrator of the MSGA/Blue Golf handicap system including adding new MSGA/Blue Golf members, deletion of members who have left the MSGA and maintenance of existing member information.


Kevin Shidler – Handicap Chairman
---
The MSGA requires players to have an established USGA handicap index to participate in MSGA tournaments and compete for awards. USGA rules require that players post scores for all rounds played on rated golf courses. As all MSGA tournaments are played on USGA rated courses under USGA rules, posting of scores is required.
All players in MSGA events are responsible for posting all their scores in a timely manner (within 5 days of playing). This includes MSGA tournaments as well as all other rounds played and includes players using the MSGA/Blue Golf system. Beginning in 2021, the MSGA will not post scores for any MSGA players.
Players are required to post their scores in accordance rules established by the USGA. For more information, click here.
The following guidelines apply to posting scores for MSGA tournaments:
Scores for MSGA events are required to be posted as "Tournament" scores (in some systems, the term used is "Competition") and "Away" unless the course is the players home course.
Scores are required to be posted with the Date of the event and within five (5) days. (Note: If players are unable to post scores at their regular courses in a timely manner, all handicap systems allow posting via the internet.)
Scores are required to be posted with the Slope and Rating of the course and tees played. Note: Sometimes course scorecards and/or websites are not up-to-date with current course Slopes and Ratings.
The MSGA attempts to notify players at each tournament of the correct Slope and Rating to be used for posting scores.
Adjustments for scores over maximum allowed by USGA rules:

Maximum score allowed per hole: "Net Double Bogey"
"Net Double Bogey" is defined as par for the hole plus two strokes (double bogey) plus any handicap stroke(s) received for the hole.
For example: If player shoots a nine (9) on a par four (4) hole and receives one (1) handicap stroke on the hole, the maximum score the player can take on the holes is seven (7) (4 + 2 + 1 = 7). When the player posts the score, the player must subtract two (2) from the Total Gross Score to meet USGA rules. See example from USGA website below.
Players who regularly miss posting scores or post scores incorrectly will be reported to the Board of Directors and may be prohibited from competing in future tournaments.
For posting questions, or assistance with internet postings, please contact the Handicap Chairman, Bob McFadden at 219-879-5581 or email.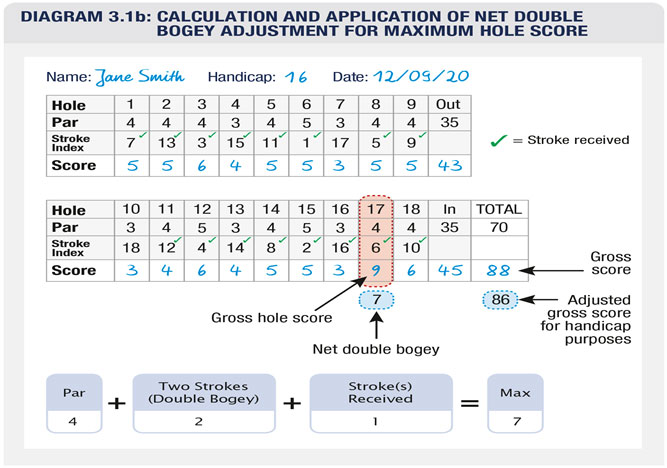 ---
All MSGA tournaments are required to be played under USGA rules with handicaps from systems approved by the USGA with handicap calculations processed by the World Handicap System (WHS).
All handicap calculations are done by the WHS each night for any player who posts a score for that day. The WHS returns the new handicap index for use the next day.
Each state association establishes a Handicap Active and Inactive Season Schedule for its area. For MSGA players the various seasons are:
Indiana - March 1 to November 14
Michigan - April 1 to October 31
Illinois - April 1 to October 31
Florida - Year-round
Arizona - Year-round
Click here for complete list of other states.
Note: Inactive seasons for posting scores are determined by the state in which the round is played and not the players home state, so players from northern states are required to post scores for rounds played in Year-round states.
---
About MSGA | Join MSGA | Tournaments | Tournament Results | MSGA Championship
Brady Cup | Handicap Central | Photo Gallery | Resources & Links | Contact Us | Members
Privacy Statement | Legal Notice | Site Map | Home
Copyright © Michiana Seniors Golf Association
Web Site Design, Hosting & Maintenance By Catalyst Marketing / Worryfree Websites