PRETTY LAKE G. C. – PLYMOUTH IN (GUEST DAY)
Note: Normal starting time – (12:00pm CDT – 1:00pm EDT)
The third MSGA tournament of 2023 will be played on Monday, June 5th at PRETTY LAKE G. C. in PLYMOUTH IN. as a GUEST DAY so invite you friends to join you and enjoy the MSGA golf experience. The FIELD HAS PLENTY OF SPOTS OPEN. LUNCH IS NOT INCLUDED IN THE FEE BUT WILL BE AVAILABLE ON A CASH BASIS.
The cut-off date for PRETTY LAKE is MAY 31st. Call Director of Golf Tom Spartz (219-363-2534) or email Tom at tomspartz@gmail.com with any questions.
If you have any problem with registration or are unsure about your status for an event, call Tom Spartz. Notify Tom that you intend to play, bring your checkbook to tournament registration and we will accommodate all members who want to play.
For the 2023 season, we will play from three different tees to fit members preferences. Front tees (Green markers) are played at approximately 5100 yards, Middle tees (Blue markers) are played at approximately 5500 yards and Back Tees (Black markers) are played at approximately 6100 yards.
Players have selected their preferences but will be allowed to change through the first four tournaments. Meeting the Age plus Handicap rule of 85 is required to play the Front Tees. All players may select the tee they prefer. If you want to change your tee preference please tell us at Tournament registration.
The tournament format is an Individual Medal play event. Individual prizes and skins within flights are awarded. You may sign up as a foursome or as an individual and we will place you with other players to form foursomes. It's a great way to meet others who also enjoy the game of golf. Awards are distributed at the following event you enter. Entry fee includes golf, lunch and Awards (including Flights, Skins, Closest to Pin and Hole in One contests).
For 2023, there will be two flights for each tee group determined by Handicap Index. Awards, Skins and Closest to Pin contests will be by flight.
Players are encouraged to continue to play with their regular groups even though players may be playing from different tees.
We look forward to a great day of golf on an excellent public golf course.
The fourth event is at Pottawatomie C. C. on June 19th. The tournament has plenty of spots available. Pottawattomie is a great old golf course that will challenge all players skills.
Members should review the balance of the 2023 schedule to make sure they get entries in early for their favorite courses. Registering costs only a $10 deposit with the balance paid after the event date. Remember all events are limited to 120 entrants.
Following event: POTTOWATTOMIE C. C. - Monday, June 19 (SPOTS AVAILABLE)
Max
Players

May 10

(W)

Whittaker Woods G. C. - New Buffalo MI (Opening Day)

120
May 22
(M)
Island Hills G. C. - Centreville MI
120

June 19

(M)

**Pottawattomie C. C. - Michigan City IN

120

July 5

(W)

Meadow Valley G. C. - Middlebury IN

120

July 17

(M)

Warren Course at Notre Dame - South Bend IN

120

August 2

(W)

Beechwood G. C. - LaPorte IN (Guest Day)

120

Aug. 14-15

(M-T) 

Swan Lake Golf Resort - Plymouth IN

72

August 30

(W)

Klinger Lake C. C. - Sturgis MI 

120

Sept. 11

(M)

Morris Park C. C. - South Bend, IN (Final Tournament)

120
*Note: Pretty Lake tournament fee does not include lunch, but lunch is available for purchase.

** Pottawatomie fee does not include lunch and at this time lunch will not be available for purchase.
Welcome to the website of the Michiana Seniors Golf Association (MSGA). The organization is made up of amateur senior players (age 50+) who love and enjoy the game of golf and a little competition and fellowship on some great golf courses. The Michiana area includes Northern Indiana and Southwest Michigan.
If you are a senior amateur player who enjoys playing golf on some of Michiana's premium golf courses, the MSGA is the organization for you.
Tournaments are flighted by handicap, so players are competing against similarly skilled players. Players are divided into two groups, those who play the regular tees (approximately 6000 yards) and those who play the front tees (approximately 5000 yards). Each group is divided into flights with approximately 15-25 players per flight. To play the front tees, players must have an Age + Handicap Index number of 85 or greater and choose to play the front tees. If you choose to play the front tees, you must continue to play the front tees for the balance of the year.
Awards are presented for low gross and multiple low net winners for each flight based on the number of entries. Click on the links above to see more information about the MSGA.
If you have questions or need more information about the MSGA, please contact Walt Ailes (219-462-0663) or any of the Board of Directors.
Walt Ailes, President
The 2022 season is the 24th year for the MSGA and includes ten tournaments played from May thru September. Of the 2022 tournaments, five will be played at private country clubs and five at public golf courses throughout the Michiana area.
The season opens at Klinger Lake C. C. in Sturgis, MI on May 18th and closes at Morris Park C. C. in South Bend on September 12th.
The MSGA Championship will again be played at Swan Lake Golf Resort in Plymouth, IN on August 15th, and 16th.
There are no new courses for 2022, but we are returning to several challenging courses including Sandy Pines, Valparaiso, Tippecanoe Lake, Innsbrook and Morris Park. After playing ten events in 2022, the total number of tournaments played in the 24-year history of the MSGA will be 231 on 53 different golf courses.
The Board of Directors is looking forward to another great year in 2022.
Welcome New Members for 2023Season!
| | |
| --- | --- |
| Bob King | South Bend IN |
| Paul Zehner | South Bend IN |
| Brian Mikel | New Paris IN |
| Mark LaBarbera | Valparaiso IN |
| Jack Kary | Granger IN |
| Tom Moser | Michigan City IN |
Welcome Returning Members!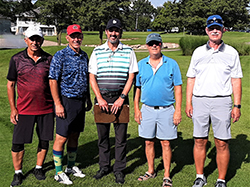 Chad Hutsell (C) with 2022 Champions Tom Smith & Ed Meyer (L) & Runners-up Andy Dosmann & Mike Hoffman (R)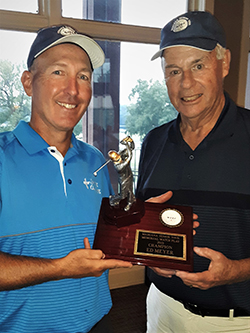 MSGA Championship – Ed Meyer (L) receiving Championship Award from Walt Ailes. Ed's partner, Tom Smith was unable to attend because of COVID quarantine. He will receive his award at the first tournament of 2022.

Brady Cup Winner Ray Ginsburg with Trophy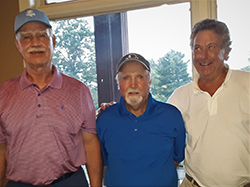 MSGA 2021 Brady Cup Award Recipients – First Place – Ray Ginsburg (C) – Second Place – Mike Hoffman (L) – Third Place – John Martin (R)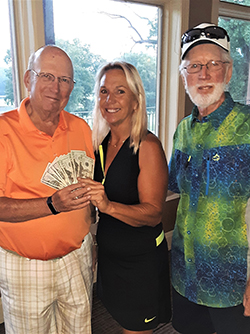 Chuck Zimmerman receiving congratulations from Michelle and Bill Murray on his Hole-in-One recorded on Hole #17 at South Bend C. C. on 09-14-21.

Bob Brady (left) receiving Recognition Award for his 16 years of Dedicated Service and Leadership to the MSGA