The format is best-ball match play within flights as determined by handicap. Players receive one-half their regular handicap for both the matches and the shootout. Each flight includes six teams, requiring five nine-hole head-to-head matches over the two-day championship.
Handicaps for a foursome are based off the lowest handicap player in the foursome who is assigned zero (0) shots for the match. Other players in the foursome are assigned shots based on the difference of their handicaps and that of the lowest handicap player. Official score cards are prepared with the handicap shots marked with a dot.
For match play scoring, ten points are awarded for each match. Each hole winner is awarded one point (half-point each for holes tied), and one point is awarded for winning the match (half-point each for matches tied). For flights with less than six teams, each team in the flight plays one match against par.
For each flight, the team with the most total points after match play advances to the shootout to determine the overall Championship winners. Should two teams tie, the head-to-head match shall determine the winner; if the head-to-head match was tied, the winner will be determined by going backward on the scorecard beginning on the last hole played until one team wins a hole; that team will advance to the shootout. Should three teams tie, the total points won by each team in head-to-head matches shall determine the winners who advance to the shootout. Second place winners in each flight will be determined in the same manner.
In the shootout, handicaps are again based off the lowest handicap player in the shootout field. Both players on each team play their own ball for the best-ball score. One team is eliminated after each hole. The highest net best-ball score for the hole is eliminated. For ties on a hole, a chip-off is used to eliminate one team. If the final two teams tie the final hole, additional playoff holes will be played until one team beats the other. The overall champions are the last team standing.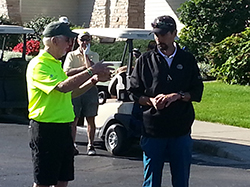 Bill Murray & Chad Hutsell with Tournament Instructions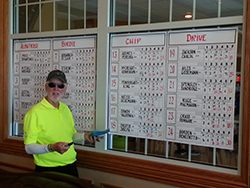 Bill Murray posting Match Results and Flight Winners