Membership Requirements | Event Information | Cost of Membership | MSGA Membership Application
Must be age 50 by date of final tournament of the year
Must have a love of golf
Must have amateur status
Must enjoy playing on premium golf courses
Must enjoy playing competitive tournament golf under USGA rules
Must enjoy camaraderie with friends on the golf course
Must have World Handicap System (WHS) handicap to play in MSGA
Tournaments *

* WHS service available from MSGA (See Cost of Membership section below)
---
Ten (10) tournaments per season played at top-rated private and public courses within approximately 1 ½ hours driving time of Michigan City, Indiana

One (1) event played as Two-Man Best Ball Match-Play Championship played over two days

Flights determined by handicap index
Course handicaps determined by tees being played
Flight winners compete in shootout to determine overall MSGA Championship
See MSGA Championship tab for details

Nine (9) tournaments played as Individual Medal Play tournaments

All flights handicapped - five (5) flights
Three (3) flights (A, B & C) play Regular tees (approximately 6000 yards)
Two (2) flights (D & E) play Forward tees (approximately 5000 yards)
Entry fee for each event varies based on the MSGA's contracted costs
Entry fee includes:

18 Holes of golf with cart (and GPS if available)
Use of practice range/practice green
Lunch or Lunch and Dinner
Awards fund

Start times:

Shotgun Start: 12:00 noon (CT) / 1:00 pm (ET)
Lunch available: 10:30 am (CT) / 11:30 am (ET)

Awards for overall Low Gross and overall Low Net for both Regular tee (A-B-C) and Forward tee (D-E) groups
Awards for Low Gross (1), and Low Net (4-6) for each flight
Net Skins game for each flight
Closest-to-the-Pin contests (separate awards for Regular tee and Forward tee players)
Hole-in-One contest (all flights combined)
---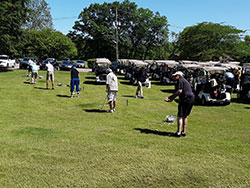 Application Fee - $25
Annual Dues - $75
Annual Handicap Fee - $35 (only for players using the MSGA/Blue Golf system which is compliant with USGA and WHS handicap requirements)
The MSGA requires a World Handicap System (WHS) handicap to play in MSGA Tournaments.
If your handicap is with a Golf Club that is a member of the WHS, you may use that handicap.
If you do not have a WHS handicap, the MSGA provides a handicap service as an Associate Member of Blue Golf System known as the MSGA/Blue Golf system.
The cost of MSGA/Blue Golf membership is $35 per year (payable to the MSGA).
---
Please fill out online application below, or click here to print/mail to MSGA.
MSGA
P.O. Box 162
Valparaiso, IN 46384-0162
Phone: 219-241-7599
Email: Tim Holmes
If you do not have an established WHS handicap, this service is available from the MSGA for $35 per year.
(See Cost of Membership section above for details)
Contact Tim Holmes at 219-241-7599 or by email with questions.
---
About MSGA | Join MSGA | Tournaments | Tournament Results | MSGA Championship
Brady Cup | Handicap Central | Photo Gallery | Resources & Links | Contact Us | Members
Privacy Statement | Legal Notice | Site Map | Home
Copyright © Michiana Seniors Golf Association
Web Site Design, Hosting & Maintenance By Catalyst Marketing / Worryfree Websites