The Brady Cup competition was originally established by the Board of Directors for the 2009 season. The concept is similar to the "Charles Schwab Cup" on the PGA Champions Tour and provides a season-long competition for the membership. Points are awarded for participation, award points won, and new members recruited to join the MSGA.
The Board named the Brady Cup in honor of Bob Brady, one of the co-founders of the organization in a tribute to his outstanding leadership and service to the MSGA from the MSGA's founding in 1999 thru his retirement from the Board in 2014.
With the interest and success, the Board has continued the competition each year since. The current standings with the top 25 are posted after each event along with the final standings for each prior year.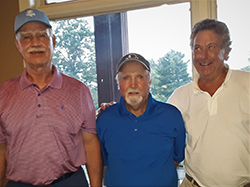 2021 Brady Cup Award Winners from left –
Mike Hoffman (second) – Ray Ginsburg (first) –
John Martin (third)