The Brady Cup competition was originally established by the Board of Directors for the 2009 season. The concept is similar to the "Charles Schwab Cup" on the PGA Champions Tour and provides a season-long competition for the membership. Points are awarded for participation, prize points won, and new members recruited to join the MSGA.
The Board named the Brady Cup in honor of Bob Brady, one of the co-founders of the organization in a tribute to his outstanding leadership and service to the MSGA over the years.
With the interest and success during the 2009 season, the Board elected to continue the Brady Cup competition for each season. The current standings with the top 25 are posted after each event.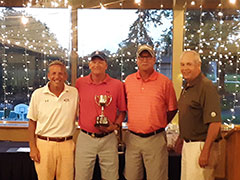 Walt Ailes (R) with 2018 Brady Cup winners
John Spensley (third), Steve Stone (first)
and John Hulewicz (second)