The 2014 season ended on September 22nd with the final tournament held at Morris Park C. C. in South Bend, Indiana. It was a great fall day for golf with temperatures in the mid-60's and plenty of sunshine. The golf course was in wonderful shape with the greens putting extremely fast and true. With the tree-lined fairways and small, fast greens, the course played very difficult for the 120 players entered.
Morris Park proved to be a very challenging course and was a great choice for the final tournament. The golf and banquet staffs did a great job for the MSGA, as always. The final tournament is a very popular event that includes lunch, dinner, extra awards and door prizes for everyone. Seasonal awards are also presented.
The Brady Cup awards for 2014 were presented to first place winner Tom Stefaniak, second place to Ray Brosseau and third place to Dan DeMartinis. Tom will also have his name engraved on the permanent Brady Cup in addition to receiving a replica of the Brady Cup. Dan DeMartinis was also recognized for his hole-in-one at Sandy Pines.
Individual trophies were presented to John Becking and Bill Gustin as the winning team for the MSGA Championship in addition to having their names added to the John Pavlos Memorial trophy for 2014.
Bob Brady is retiring from the Board of Directors after 16 years as Co-Founder, Secretary/Treasurer and Director. In recognition of his dedicated service, visionary guidance and outstanding leadership, Bob was presented with a beautiful plaque signifying his long-time service to the MSGA.
At the Annual Membership meeting, Bruce Ruge, Bob McFadden and Ray Nutty were elected to the Board of Directors for three-year terms beginning in 2015, replacing Bob Brady, Mike Gilpin and Larry Jackson.
The Board of Directors has finalized the schedule for the 2015 season. We are excited to host eleven tournaments, including eight tournaments on Mondays and three on Wednesdays.
2015 Tournament Schedule
| | | |
| --- | --- | --- |
| May 11 | Whitaker Woods GC | New Buffalo, MI (opening day) |
| May 27 | Meadow Valley GC | Middlebury, IN (guest day) |
| June 8 | Sand Creek CC | Chesterton, IN |
| June 22 | Tippecanoe Lake CC | Leesburg, IN |
| July 8 | Island Hills GC | Centreville, MI (guest day) |
| July 20 | Briar Ridge CC | Schereville, IN (first time course) |
| August 3 | White Hawk CC | Crown Point, IN |
| August 17/18 | Swan Lake Resort | Plymouth, IN (MSGA Championship) |
| August 31 | Pottawattomie CC | Michigan City, IN |
| September 9 | Bent Oak GC | Elkhart, IN |
| September 21 | Knollwood CC | Granger, IN (final event) |
The Board also wants to thank all the players who participated in this year's tournaments and made this year another extremely successful year. The average attendance for the eleven Individual Medal play events was 103 players, down slightly from 2013 when the average was 108 for nine Individual Medal play events. 2014 was the fourth consecutive year with average attendance above 100 players per tournament. The MSGA Two-Man Team Championship had 68 players, up slightly from 60 in 2013.
We ended 2014 with 189 members, exactly the same as at the end of 2013. Be sure to invite your friends to join the MSGA for the 2015 season.
We look forward to another great year in 2015!
Next Tournament: Whitaker Woods G. C. – May 11, 2015!
Welcome to the website of the Michiana Seniors Golf Association (MSGA). The organization is made up of amateur senior players (age 50+) who love and enjoy the game of golf and a little competition and fellowship on some great golf courses. The Michiana area includes Northern Indiana and Southwest Michigan.
If you are a senior amateur player who enjoys playing golf on some of Michiana's premium golf courses, the MSGA is the organization for you. Click on the tabs above to learn more about the MSGA. If you have any questions or need more information about the MSGA, please contact Bruce Fisher or any of the Board of Directors.
Walt Ailes, President
The 2015 season is the 17th year for the MSGA and includes eleven (11) tournaments played from May thru September. Of the 2015 tournaments, six will be played at private country clubs and five at public golf courses throughout the Michiana area. We will open the schedule at Whitaker Woods G. C. on May 11th and close the season at Knollwood C. C. on September 21st.
In between, we have guest days at Meadow Valley G. C. in Middlebury, IN and Island Hills G. C in Centreville, MI and the MSGA Championship at Swan Lake Golf Resort in Plymouth IN.
We have one course new to the MSGA in 2015. That tournament will be played at Briar Ridge C. C. in Schereville, IN on July 20th.
After testing during the 2014, we will continue to have a fifth flight that will play from the front tees in all individual tournaments. Players whose age plus handicap equals 95 may choose to play in the fifth flight.
The Board of Directors is looking forward to another great year in 2015.
Welcome New Members for 2015 Season!
| | |
| --- | --- |
| Scott Kistler | Michigan City, IN |
| Kevin Coleman | Long Beach, IN |
| Bob Hartmann | Chesterton, IN |
| Terry Bronowski | Crown Point, IN |
| Joe Simanski | Plymouth, IN |
| Greg Sheetz | Plymouth, IN |
| John Hampton | Plymouth, IN |
Welcome Returning Members!
| | |
| --- | --- |
| Jack Niland | Valparaiso, IN |
| Louie Slabach | Shipshewana, IN |
| Wayne Slabach | Wolcottville, IN |
| Dick Sierra | Valparaiso, IN |
| Seth Moseley | Valparaiso, IN |

Bob Brady (left) receiving Recognition Award for his 16 years of Dedicated Service and Leadership to the MSGA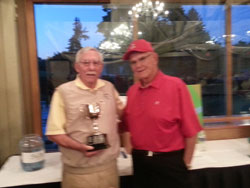 Bob Brady (left) presenting Tom Stefaniak with the first place award for the 2014 Brady Cup competition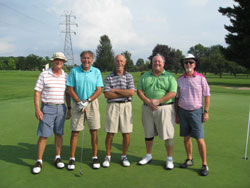 Bill Murray (right) congratulating 2014 Championship Winners (from left) Bill Gustin and John Becking and Runners-up Roger Stevens and Bruce Fisher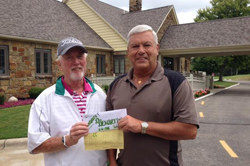 Dan DeMartinis (right) receiving congratulations from Bill Murray on his Hole-in-One at Sandy Pines on July 9th