Member Notes:
Swan Lake Golf Resort Championship – Plymouth IN – August 20/21, 2018 (Mon/Tue)
August 20-21, 2018 (Monday)
Note: Registration and continental breakfast – (8:00am CDT – 9:00am EDT) – first match each day – (9:00am CDT – 10:00am EDT)
The 8th MSGA tournament of the year will be on Monday and Tuesday, August 20th and 21st at Swan Lake Resort G. C. in Plymouth, IN. This event is the MSGA's Championship tournament for 2018. This year, the Championship will be the same format as in the past and played on the Silver Course at Swan Lake, the same course as previous years. With the event at Swan Lake again this year, we expect a full field, so get your entries in soon.
NOTE: Initial entries are limited to the first thirty (30) teams to create five (5) flights. Should less than thirty teams enter, some flights will be made up of five (5) teams rather than six (6) teams. Should more than thirty teams enter, those additional teams will be placed on a waiting list. If additional teams enter, another flight will be added after six (6) teams are entered to complete a full six (6) team flight.
If you want to play, but do not have a partner, Bill Murray will pair you with another to form a team. Call Bill at 219-393-8648.
The tournament is a Member/Member or Member/Guest event. All guests are required to have an official USGA handicap with at least 10 rounds posted as of the August 1st handicap update.
The cut-off for Championship entries is August 10th.
This year's tournament is the 16th annual John Pavlos Memorial Championship, which is named in honor of one of the MSGA's co-founders. The format is a Two-man Two-day Best Ball Match Play within flights with flight winners participating in a shoot-out.
Awards will be presented for the overall Shoot-out Winners and Runners Up and to all teams in the Shoot-out Winner's flight in addition to all Flight winners and Runners Up. The Championship winners will also be presented with individual trophies and have their names engraved on the permanent John Pavlos Memorial Championship trophy. The only regular event award will be the Hole-in-One contest.
This is the ninth time the MSGA has played at Swan Lake and the sixth time for the MSGA Team Championship. We have always enjoyed our visits and have always been treated very well. We expect that the course will be in great shape.
If you have any questions, call Bill Murray at 219-393-8648.
Following event: Meadow Valley G. C. on Wednesday September 5th – Cut-off date is August 29th.
2018 Tournament Schedule

May 16
Maplecrest CC, Goshen IN (opening day)
May 30
Beechwood GC, LaPorte IN (guest day – first time course)
June 11
Orchard Hills CC, Buchanan MI (guest day)
June 27
Klinger CC, Sturgis MI
July 9
Tippecanoe Lake CC, Leesburg IN
July 23
Innsbrook CC, Merrillville IN
August 6
Rock Hollow GC, Peru IN
August 20-21
Swan Lake Golf Resort, Plymouth IN (MSGA Team Championship)
September 5
Meadow Valley GC, Middlebury IN
September 17
Morris Park CC, South Bend IN (final event)
Welcome to the website of the Michiana Seniors Golf Association (MSGA). The organization is made up of amateur senior players (age 50+) who love and enjoy the game of golf and a little competition and fellowship on some great golf courses. The Michiana area includes Northern Indiana and Southwest Michigan.
If you are a senior amateur player who enjoys playing golf on some of Michiana's premium golf courses, the MSGA is the organization for you.
All tournaments are flighted by handicap so players are playing against similarly skilled players. An additional flight is available, if players choose, for players whose age plus handicap index equals 95. The flight plays from the forward tees. Click on the links to see more information about the MSGA.
If you have any questions or need more information about the MSGA, please contact Bruce Fisher (219-363-7466) or any of the Board of Directors.
Walt Ailes, President (219-462-0663)
The 2018 season is the 20th year for the MSGA and includes ten tournaments played from May thru September. Of the 2018 tournaments, six will be played at private country clubs and four at public golf courses throughout the Michiana area. The season opens at Maplecrest C. C. in Goshen, IN on May 16th and closes at Morris Park C. C. in South Bend on September 17th.
In between, there are guest days at Beechwood G. C. in LaPorte, IN and Orchard Hills C. C in Buchanan, MI and the MSGA Championship at Swan Lake Golf Resort in Plymouth IN.
There is one course that the MSGA has not played in the past. That tournament will be played at Beechwood G. C. in LaPorte on May 30th and will be the 50th different course played in the MSGA's history. After playing ten events in 2018, the total number of tournaments played in the 20-year history of the MSGA will be 181.
The Board of Directors is looking forward to another great year in 2018.
MSGA Championship
August 20 and 21, 2018
Swan Lake Resort
For the MSGA, Swan Lake Resort has set aside a block of rooms for players interested in staying overnight on August 19 and 20 with a special rate. To make a reservation, call (800) 936-5616 and ask for Michiana Seniors rate.
Golf will be available on August 19 at a senior rate of $35. You must call to reserve a Tee time (574) 936-9798.
Welcome New Members for 2018 Season!
| | |
| --- | --- |
| Robert McFarland | Michigan City IN |
| Jim Kilbourne | Granger IN |
| Pete Schmaltz | North Judson IN |
| Dave Van Vactor | Plymouth IN |
| Ryan Estes | Angola IN |
| Tom Edwards | LaPorte IN |
| Dan Kaminski | LaPorte IN |
| Dave Heckaman | South Bend IN |
| Dave Hochstetler | Elkhart IN |
| Tom Markel | Union MI |
| Butch Markel | Rockford MI |
| Jim Champer | South Bend IN |
| Steve Cramer | Cassopolis MI |
| Dale Cramer | Plymouth IN |
| Dennis Kring | Mishawaka IN |
| Bob Donaldson | Schererville IN |
| Jon Huffman | Plymouth IN |
| Woody Woodiwiss | Oseola IN |
| Craig Juel | Valparaiso IN |
| Chuck Blair | Crown Point IN |
| Kevin Shidler | Culver IN |
| Michael Lyons | Crown Point IN |
| Steven Schwier | Granger IN |
| Britt Murphey | Elkhart IN |
| Fred Hillis | Culver IN |
| Jay Wilson | Middlebury IN |
| Jeff Hartin | Edwardsburg MI |
Welcome Returning Members!
| | |
| --- | --- |
| Jim Foglesong | LaPorte IN |
| Steve Kahn | Michigan City IN |
| Bob Hart | LaPorte IN |
| Kevin Kolczynski | Calumet City IL |
| Mark Timm | Michigan City IN |
| Louie Slabach | Shipshewana IN |
| Wayne Slabach | Wolcottville IN |
| Phil Collins | Lakeside MI |
| Mike Basney | Edwardsburg MI |
| Jim Wade | LaPorte IN |
| Mike Dexter | Crown Point IN |
2017 MSGA Championship
The second day of the MSGA Championship Tournament was cancelled because of heavy overnight rains that rendered the course unplayable.
Partial awards were awarded based on the flight results for the first day.
The shootout for overall MSGA Champions was also cancelled, so there were no overall Champions for 2017.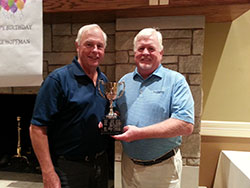 Stu Holaway (right) receiving the 2017 Brady
Cup Trophy from Walt Ailes

Bob Brady (left) receiving Recognition Award for his 16 years of Dedicated Service and Leadership to the MSGA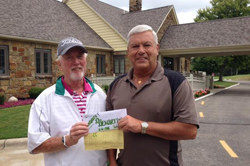 Dan DeMartinis (right) receiving congratulations from Bill Murray on his Hole-in-One at Sandy Pines on July 9, 2014 (Last MSGA tournament Hole-in-One)