Member Notes:
THANK YOU FOR A GREAT 2017 SEASON!!
The 2017 season ended on September 18th with the final tournament at South Bend C.C. It was a great late summer day for golf and was enjoyed by 115 players.
South Bend C.C. is an excellent golf course and was a great choice for the final tournament. As always, the final tournament was a popular event that included lunch, dinner and extra awards and door prizes. The golf and banquet staffs did a excellent job for the MSGA.
Stu Holaway won the season long Brady Cup award for 2017 and was presented a replica of the Robert Brady permanent trophy which will have his name added to the list of past winners. Bob Dunn and Abe Ismail finished second and third respectively.
The second day of the MSGA Championship was rained out and thus the Championship was not awarded for the 2017 season.
At the Annual Meeting of the membership, Abe Ismail, Bob McFadden and Bruce Ruge were reelected to the Board of Directors for three-year terms. Rich Wallace was elected for a two- year term to replace Kent Kaeppler who is retiring from the board after serving on the board for many years. The Board thanks Kent for his long-time service and welcomes Rich to the Board.
The Board wants to thank all the players who participated in this year's tournaments and made this year another very successful year. For the season, the average entries for the individual events was 102 as compared to 101 for 2016. Four of the last five years have seen average attendance over 100 entries per tournament. In total, members played 855 rounds in the 2017 tournaments. Thirteen players played in all the events.
The current membership stands at 171, down slightly from 174 last year. Over the years, 741 players have held membership in the MSGA.
The Board of Directors has completed the 2018 tournament schedule, which is listed below. We are excited about the excellent courses on the schedule. The schedule includes nine individual medal events and the MSGA Team Championship tournament.
We look forward to another great year in 2018. Be sure to invite your friends to join you for the 2018 Season!
2018 Tournament Schedule

May 16
Maplecrest CC, Goshen IN (opening day)
May 30
Beechwood GC, LaPorte IN (guest day – first time course)
June 11
Orchard Hills CC, Buchanan MI (guest day)
June 27
Klinger CC, Sturgis MI
July 9
Tippecanoe Lake CC, Leesburg IN
July 23
Innsbrook CC, Merrillville IN
August 6
Rock Hollow GC, Peru IN
August 20-21
Swan Lake Golf Resort, Plymouth IN (MSGA Team Championship)
September 5
Meadow Valley GC, Middlebury IN
September 17
Morris Park CC, South Bend IN (final event)
Opening Day is May 16, 2018!!
Welcome to the website of the Michiana Seniors Golf Association (MSGA). The organization is made up of amateur senior players (age 50+) who love and enjoy the game of golf and a little competition and fellowship on some great golf courses. The Michiana area includes Northern Indiana and Southwest Michigan.
If you are a senior amateur player who enjoys playing golf on some of Michiana's premium golf courses, the MSGA is the organization for you.
All tournaments are flighted by handicap so players are playing against similarly skilled players. An additional flight is available, if players choose, for players whose age plus handicap index equals 95. The flight plays from the forward tees. Click on the links to see more information about the MSGA.
If you have any questions or need more information about the MSGA, please contact Bruce Fisher (219-363-7466) or any of the Board of Directors.
Walt Ailes, President (219-462-0663)
The 2018 season is the 20th year for the MSGA and includes ten tournaments played from May thru September. Of the 2018 tournaments, six will be played at private country clubs and four at public golf courses throughout the Michiana area. The season opens at Maplecrest C. C. in Goshen, IN on May 16th and closes at Morris Park C. C. in South Bend on September 17th.
In between, there are guest days at Beechwood G. C. in LaPorte, IN and Orchard Hills C. C in Buchanan, MI and the MSGA Championship at Swan Lake Golf Resort in Plymouth IN.
There is one course that the MSGA has not played in the past. That tournament will be played at Beechwood G. C. in LaPorte on May 30th and will be the 50th different course played in the MSGA's history. After playing ten events in 2018, the total number of tournaments played in the 20-year history of the MSGA will be 181.
The Board of Directors is looking forward to another great year in 2018.
Welcome New Members for 2017 Season!
| | |
| --- | --- |
| Verne Sawyer | White Pigeon MI |
| Karl Miller | Middlebury IN |
| Scott Smith | Middlebury IN |
| Don Abair | Plymouth IN |
| Steve Stone | Granger IN |
| Harry Perkins | Tinley Park IL |
| Donnie Perkins | Valparaiso IN |
| John Hulewicz | Goshen IN |
| Ed Ferguson | Portage IN |
| Tony Fallucca | Chesterton IN |
| Jeff Carmien | Bristol IN |
| Rex Johnson | St. John IN |
| Tom Smith | Goshen IN |
| Ray Ginsburg | Michigan City IN |
| Mike Hoffman | Granger IN |
| Tim Swallers | Crown Point IN |
| Dave Dunn | Westville IN |
| Roy Shepard | Chesterton IN |
| Randy Kerns | Valparaiso IN |
| Bob Dunn | Plymouth IN |
| Stu Holaway | Middlebury IN |
| John Graft | Rochester IN |
| Phil Weybright | Plymouth IN |
| Paul Martindale | Plymouth IN |
| Mike O'Malley | Livonia MI |
| Brian Gensel | Valparaiso IN |
| John Wendel | Plymouth IN |
| Steve McGue | Michigan City IN |
Welcome Returning Members!
| | |
| --- | --- |
| Al Marquardt | Michigan City IN |
2017 MSGA Championship
The second day of the MSGA Championship Tournament was cancelled because of heavy overnight rains that rendered the course unplayable.
Partial awards were awarded based on the flight results for the first day.
The shootout for overall MSGA Champions was also cancelled, so there were no overall Champions for 2017.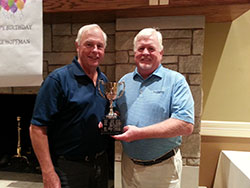 Stu Holaway (right) receiving the 2017 Brady
Cup Trophy from Walt Ailes

Bob Brady (left) receiving Recognition Award for his 16 years of Dedicated Service and Leadership to the MSGA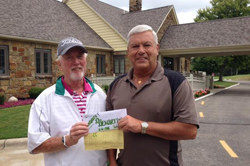 Dan DeMartinis (right) receiving congratulations from Bill Murray on his Hole-in-One at Sandy Pines on July 9, 2014 (Last MSGA tournament Hole-in-One)