Member Notes:
2019 Schedule Announced – See Below!!
THANK YOU FOR A GREAT 2018 SEASON!!

The 2018 season ended on September 17th with the final tournament at Morris Park C.C. in South Bend. It was a very warm fall day for golf and was enjoyed by 118 players.

Morris Park is a wonderful private golf course and was a perfect choice for the final tournament. As always, the final tournament was a popular event that included lunch, dinner and extra awards and door prizes.

The season long Brady Cup awards were presented. Steve Stone won the Brady Cup award for 2018 and was presented a replica of the Robert Brady permanent trophy which will have his name added to the list of past winners. John Hulewicz and John Spensley finished second and third respectively.

The team of Mark Joseph and Gary Drutis were also recognized as winners of the MSGA Team Championship tournament. Both will receive individual trophies signifying their success and will have their names added to the list of past winners on the permanent John Pavlos Memorial trophy. Randy Kerns and Don Rogers were second place winners.

At the Annual Meeting of the membership, Taylor Seward and Walt Ailes were reelected to the Board of Directors for three-year terms.

The 2019 Season will be the twenty-first for the MSGA. After the 2019 season, the MSGA will have played 191 tournaments on 52 different golf courses throughout the Michiana area. The current membership stands at 181, up from 171 last year. Over the years, 768 players have held membership in the MSGA.

The Board wants to thank all the members who participated in this year's tournaments and made 2018 another very successful year for the MSGA. For the season, the average entries for the individual medal tournaments was 103 as compared to 102 for 2017. Five of the last six years have seen average attendance over 100 entries per tournament. In total, members played 907 rounds in the 2018 individual medal tournaments. Eight players played in all the events including the Championship.

The Board of Directors has completed the 2019 tournament schedule which is listed below. The schedule includes two courses new to the MSGA (Elcona C. C. and Legacy G. C.) and two guest days. We are excited about the excellent courses on the schedule that includes five private golf courses and five excellent public courses.

Membership renewal forms with the 2019 schedule will be mailed out in early January for the 2019 season. We hope that all current members will re-up for 2019.

We look forward to another great year in 2019. Be sure to invite your friends to join you for the 2019 Season!
2019 Tournament Schedule

May 13

Whittaker Woods G. C, New Buffalo MI (opening day)

May 29

Pottawattomie C .C., Michigan City IN

June 10

Pretty Lake G. C. (formerly Plymouth C.C.), Plymouth IN
(guest day)

June 24

Island Hills G .C., Centreville MI

July 8

Sand Creek C.C., Chesterton IN

July 22

Briar Ridge C.C., Schererville IN (guest day)

August 5

Elcona C. C., Bristol IN (new course)

August 19-20

Swan Lake Golf Resort, Plymouth IN
(MSGA Team Championship)

September 4

Legacy Hills G.C., LaPorte IN (new course)

September 16

South Bend C.C., South Bend IN (final event)
Opening Day - May 13, 2019!!
Welcome to the website of the Michiana Seniors Golf Association (MSGA). The organization is made up of amateur senior players (age 50+) who love and enjoy the game of golf and a little competition and fellowship on some great golf courses. The Michiana area includes Northern Indiana and Southwest Michigan.
If you are a senior amateur player who enjoys playing golf on some of Michiana's premium golf courses, the MSGA is the organization for you.
All tournaments are flighted by handicap so players are playing against similarly skilled players. An additional flight is available, if players choose, for players whose age plus handicap index equals 95. The flight plays from the forward tees. Click on the links to see more information about the MSGA.
If you have any questions or need more information about the MSGA, please contact Bruce Fisher (219-363-7466) or any of the Board of Directors.
Walt Ailes, President (219-462-0663)
The 2019 season is the 21st year for the MSGA and includes ten tournaments played from May thru September. Of the 2019 tournaments, five will be played at private country clubs and five at public golf courses throughout the Michiana area. The season opens at Whittaker Woods G. C. in New Buffalo, MI on May 13th and closes at South Bend C. C. in South Bend on September 16th.
In between, there are guest days at Pretty Lake G. C. (formerly Plymouth C. C.) in Plymouth, IN and Briar Ridge C. C in Schererville, IN and the MSGA Championship at Swan Lake Golf Resort in Plymouth, IN.
There are two courses that are new venues for the MSGA in 2019. Those tournaments will be played at Elcona C. C. in Bristol, IN on August 5th and at Legacy Hills G. C. in LaPorte, IN on September 4th. After playing ten events in 2019, the total number of tournaments played in the 21-year history of the MSGA will be 191 on 52 different courses.
The Board of Directors is looking forward to another great year in 2019.
U. S. Senior Open - Volunteer Opportunities
The 2019 Senior Open will be played at The Warren Course at Notre Dame from Monday June 24 thru Sunday June 27. The first three days are practice days with the tournament played Thursday thru Sunday. We have been contacted by Marvin Stewart, Co-Chair for Marshals about some of our members participating.
Volunteers will be asked to work four shifts or about 16-20 hours in total sometime during the tournament. They will attempt to assign you to dates, times and duties of your choice. There will be an orientation day prior to the tournament.
Links for more information: U. S. Senior Open – Volunteer Information or Warren Course at Notre Dame
If you are interested, please contact Marvin Stewart at 574-340-0697 or via email at mstewar7@nd.edu or Danielle Baiunco, Championship Manager at 574-631-0951 or via email at danielle@brunoeventteam.com
Welcome New Members for 2019 Season!
| | |
| --- | --- |
| John Chamberlin | Plymouth IN |
| Ned Schimizzi | Mishawaka IN |
| Robert Hazzard | Dyer IN |
| Dave Kauppi | Grand Beach MI |
| Jim Jakubowski | Grand Rapids MI |
| Karl Buchholtz | Porter IN |
| Daniel Lavin | Culver IN |
| Rick Dick | Warsaw IN |
| Mike Babcock | North Webster IN |
| Jim Magnuson | LaPorte IN |
| Jack Enright | Knox IN |
| Patrick Glossinger | Bridgeman MI |
| Bill Ketcham | Long Beach IN |
| Greg Schoenfeld | Vandalia MI |
| Eric Morris | North Liberty IN |
| Joe Johnston | Munster IN |
| Jim Weidenfeller | Schererville IN |
| Tim Mallon | LaPorte IN |
| Frank Hornbeak | Thayer IN |
Welcome Returning Members!
| | |
| --- | --- |
| Steve Raymond | LaPorte IN |
| John Simmons | Valparaiso IN |
| Ted Chittum | Bourbon IN |
| Rich Emery | South Bend IN |
| Jerry Orman | Rolling Prairie IN |
| Jed Ullman | Fort Wayne IN |
| Dave Pera | Valparaiso IN |
| Roger Presl | North Manchester IN |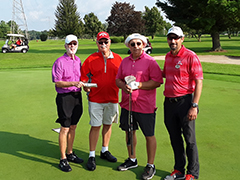 Director of Golf Bill Murray (L) and Swan Lake Golf Pro Chad Hutsell (R) congratulating 2018 MSGA Championship Winners Mark Joseph
and Gary Drutis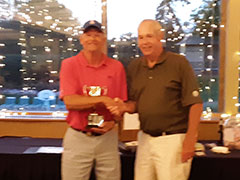 Walt Ailes (R) congratulating Steve Stone as winner of the 2018 Brady Cup award

Bob Brady (left) receiving Recognition Award for his 16 years of Dedicated Service and Leadership to the MSGA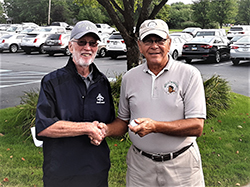 Roland Pereira (R) receiving congratulations from Bill Murry on his Hole-in-One at Rock Hollow on August 6, 2018 (First MSGA Hole-in-One since 2014)