Member Notes:
MSGA's Golf Season arriving soon!!!
The 2018 Opening Day tournament is coming up soon. We will open the 2018 season at Maplecrest C.C. in Goshen, IN on Wednesday May 16th.
This year is the twentieth season for the MSGA. For some perspective, over the years the MSGA has played 181 events on 50 different golf courses throughout the Michiana area. To date, we have had 751 different players as members of the MSGA. In six of the last seven years, participation has averaged over 100 players per tournament.
Membership renewal information has been mailed to all new members and last year's members. If you have not yet received your renewal packet, please call Bruce Fisher at 219-363-7466.
Opening day will soon be upon us, so you need to think about getting your Maplecrest entries mailed. The first event of the year is always a very popular event and Maplecrest is an excellent golf course that was opened in 1961. Entries are due by May 9th. We last played at Maplecrest in 2016 and 2014 with turnout numbering 112 and 114 respectively. Each event is limited to the first 120 entries received.
The day includes lunch and golf, but no dinner. You can sign up as a foursome, or as an individual and we will place you with others to form foursomes. It's a great way to meet others who also enjoy the game of golf on a very competitive course.
You should also be aware of the second event at Beechwood G. C. in LaPorte, IN on Wednesday May 30th. Beechwood is the first of two Guest Days for the 2018 season, so invite your friends to join you and introduce them to the MSGA. Your entry includes lunch, golf and prize fund.
As in past seasons, we will continue a fifth flight (Flight E) where eligible players will play from the front tees in all individual tournaments. The Board received many positive comments about Flight E making the golfing experience more enjoyable for players. As a side effect, play was sped up for all players.
All players whose age plus handicap equals 95 are eligible to choose to play in Flight E. If a player chooses to play in Flight E, they must continue to play in Flight E for the remainder of 2018 season. Players are encouraged to continue playing with their regular groups even though players may be playing from different tees. For more details, click on the Tournaments tab above.
We look forward to another great year in 2018!!
2018 Tournament Schedule

May 16
Maplecrest CC, Goshen IN (opening day)
May 30
Beechwood GC, LaPorte IN (guest day – first time course)
June 11
Orchard Hills CC, Buchanan MI (guest day)
June 27
Klinger CC, Sturgis MI
July 9
Tippecanoe Lake CC, Leesburg IN
July 23
Innsbrook CC, Merrillville IN
August 6
Rock Hollow GC, Peru IN
August 20-21
Swan Lake Golf Resort, Plymouth IN (MSGA Team Championship)
September 5
Meadow Valley GC, Middlebury IN
September 17
Morris Park CC, South Bend IN (final event)
Opening Day is May 16, 2018!!
Welcome to the website of the Michiana Seniors Golf Association (MSGA). The organization is made up of amateur senior players (age 50+) who love and enjoy the game of golf and a little competition and fellowship on some great golf courses. The Michiana area includes Northern Indiana and Southwest Michigan.
If you are a senior amateur player who enjoys playing golf on some of Michiana's premium golf courses, the MSGA is the organization for you.
All tournaments are flighted by handicap so players are playing against similarly skilled players. An additional flight is available, if players choose, for players whose age plus handicap index equals 95. The flight plays from the forward tees. Click on the links to see more information about the MSGA.
If you have any questions or need more information about the MSGA, please contact Bruce Fisher (219-363-7466) or any of the Board of Directors.
Walt Ailes, President (219-462-0663)
The 2018 season is the 20th year for the MSGA and includes ten tournaments played from May thru September. Of the 2018 tournaments, six will be played at private country clubs and four at public golf courses throughout the Michiana area. The season opens at Maplecrest C. C. in Goshen, IN on May 16th and closes at Morris Park C. C. in South Bend on September 17th.
In between, there are guest days at Beechwood G. C. in LaPorte, IN and Orchard Hills C. C in Buchanan, MI and the MSGA Championship at Swan Lake Golf Resort in Plymouth IN.
There is one course that the MSGA has not played in the past. That tournament will be played at Beechwood G. C. in LaPorte on May 30th and will be the 50th different course played in the MSGA's history. After playing ten events in 2018, the total number of tournaments played in the 20-year history of the MSGA will be 181.
The Board of Directors is looking forward to another great year in 2018.
Welcome New Members for 2018 Season!
| | |
| --- | --- |
| Robert Donaldson | Schererville IN |
| Jon Huffman | Plymouth IN |
| Woody Woodiwiss | Oseola IN |
| Craig Juel | Valparaiso IN |
| Chuck Blair | Crown Point IN |
| Kevin Shidler | Culver IN |
| Michael Lyons | Crown Point IN |
| Steven Schwier | Granger IN |
| Britt Murphey | Elkhart IN |
| Fred Hillis | Culver IN |
| Jay Wilson | Middlebury IN |
| Jeff Hartin | Edwardsburg MI |
Welcome Returning Members!
| | |
| --- | --- |
| Kevin Kolczynski | Calumet City IL |
| Mark Timm | Michigan City IN |
| Phil Collins | Lakeside MI |
| Michael Basney | Edwardsburg MI |
| Jim Wade | LaPorte IN |
| Mike Dexter | Crown Point IN |
2017 MSGA Championship
The second day of the MSGA Championship Tournament was cancelled because of heavy overnight rains that rendered the course unplayable.
Partial awards were awarded based on the flight results for the first day.
The shootout for overall MSGA Champions was also cancelled, so there were no overall Champions for 2017.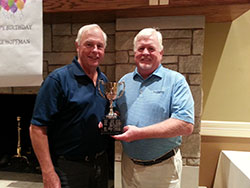 Stu Holaway (right) receiving the 2017 Brady
Cup Trophy from Walt Ailes

Bob Brady (left) receiving Recognition Award for his 16 years of Dedicated Service and Leadership to the MSGA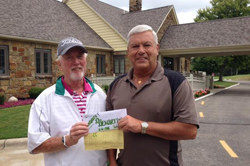 Dan DeMartinis (right) receiving congratulations from Bill Murray on his Hole-in-One at Sandy Pines on July 9, 2014 (Last MSGA tournament Hole-in-One)