Member Notes:
Warren Course at Notre Dame – June 13, 2016 (Monday)
Note: Normal starting time – (12:00pm CDT – 1:00pm EDT)
The third MSGA tournament of 2016 will be on Monday, June 13th at Warren Course at Notre Dame in Notre Dame (South Bend), IN. Notre Dame is always a very popular venue and the field will fill up fast, so get you entries in early. The average number of players for the last three tournaments at Notre Dame was 118. The field will be limited to the first 120 players entered.
The cut-off for entries is Monday, June 6th.
The tournament format is an Individual Medal play event. The normal individual prizes and skins within flights will be awarded. You may sign up as a foursome or as an individual and we will place you with others to form foursomes. It's a great way to meet others who also enjoy the game of golf on a premier golf course. Awards will be distributed at the following tournament. Your entry fee includes lunch and golf.
If you have any questions, call Bill Murray at 219-393-8648.
This is the sixth time the MSGA has played at Notre Dame and we look forward to a fine day of golf on a very highly rated golf course. Our last tournament at Notre Dame was in 2014 with 112 players.

For the 2016 season, the MSGA Board is continuing the additional flight for higher handicap players who play from the Forward Tees rather than from the Regular Tees. To accomplish this, the number of flights for each tournament is five. The fifth flight (Flight E) is for the players with handicaps plus age totaling 95. Only Low Net prizes are awarded for Flight E in addition to normal skins awards (no Low Gross awards). The same par three tees are used by all flights, so Flight E players participate in the Closest-to-the-Pin and Hole-in-One contests.

Having a Flight E has sped up play and made the golfing experience more enjoyable for all players. Players are encouraged to continue to play with their regular groups even though some players may be playing from the Forward Tees.

The fourth event on the schedule is the second and last Guest Day of the season at Klinger Lake C. C. in Sturgis, MI. on Wednesday June 29th. Invite your friends to join you in playing an excellent and challenging golf course. This is a great way to introduce them to the MSGA's tournament experience. Cut-off for entries is June 22nd with entries limited to the first 120 received. This year's tournament is the third time the MSGA has played Klinger Lake, which is another popular venue, so get your entries in early as we also expect a full field with guests. Players should also review the complete schedule to make sure they get entries in early for their favorite courses.

This year's MSGA Championship will again be held at Swan Lake Resort on August 22nd & 23rd. It's never too early to find a partner and get your entry in. If you would like to play and need a partner, call Bill Murray at 219-393-8648. See the MSGA Championship page for all the details.
Following event: Guest Day - Klinger Lake C. C., Monday, June 29th – Cutoff June 22nd.
2016 Tournament Schedule *
June 13
Warren Course at Notre Dame, South Bend IN
June 29
Klinger Lake CC, Sturgis MI (guest day)
July 11
Innsbrook CC, Merrillville IN
July 25
Blackthorn GC, South Bend IN
August 8
Sand Creek CC, Chesterton IN
August 22-23
Swan Lake Golf Resort, Plymouth IN
(MSGA Team Championship)
September 7
Rock Hollow GC, Peru IN (first time course)
September 19
Morris Park CC, South Bend IN (final event)
Next tournament: Warren Course at Notre Dame, June 13, 2016
Welcome to the website of the Michiana Seniors Golf Association (MSGA). The organization is made up of amateur senior players (age 50+) who love and enjoy the game of golf and a little competition and fellowship on some great golf courses. The Michiana area includes Northern Indiana and Southwest Michigan.
If you are a senior amateur player who enjoys playing golf on some of Michiana's premium golf courses, the MSGA is the organization for you.
All tournaments are flighted by handicap so players are playing against similarly skilled players. An additional flight is available, if players choose, for players whose age plus handicap equals 95. The flight plays from the forward tees. Click on the tabs above to learn more about the MSGA.
If you have any questions or need more information about the MSGA, please contact Bruce Fisher (219-363-7466) or any of the Board of Directors.
Walt Ailes, President (219-462-0663)
The 2016 season is the 18th year for the MSGA and includes ten tournaments played from May thru September. Of the 2016 tournaments, six will be played at private country clubs and four at public golf courses throughout the Michiana area. The season opens at Maplecrest C. C. on May 18th and closes at Morris Park C. C. on September 19th.
In between, there are guest days at Mystic Hills G. C. in Culver, IN and Klinger Lake C. C in Sturgis, MI and the MSGA Championship at Swan Lake Golf Resort in Plymouth IN.
There is one course that the MSGA has not played in the past. That tournament will be played at Rock Hollow G. C. in Peru, IN on September 7th.
The Board of Directors is looking forward to another great year in 2016.
Welcome New Members for 2016 Season!
| | |
| --- | --- |
| Peter MacEntee | Three Oaks MI |
| Jim Black | Valparaiso IN |
| Max Borden | Rochester IN |
| Dick Briars | Kouts IN |
| Lee Burdorf | Elkhart IN |
| Tom Mackrola | Long Beach IN |
| Terry Brownell | Valparaiso IN |
| John Smith | Long Beach IN |
| Mike McCreight | Munster IN |
| Don Coddens | South Bend IN |
| Rich Emery | South Bend IN |
| Tony Gensel | Hammond IN |
| Robert Woolever | Wanatah IN |
| Ted Chittum | Bourbon IN |
| John Spensley | Culver IN |
Welcome Returning Members!
| | |
| --- | --- |
| Bill Diedrich | South Bend IN |
| Tom Thorley | Valparaiso IN |
| John Farron | Granger IN |
| Danny Koontz | South Bend IN |
| Neil Carlson | South Bend IN |
| Mike Shikany | Michigan City IN |
| Robert Feldman | Buchanan MI |
| Jerry Orman | Rolling Prairie IN |

Bob Brady (left) receiving Recognition Award for his 16 years of Dedicated Service and Leadership to the MSGA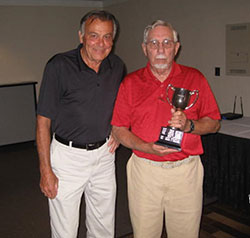 Bob Brady (right) presenting Ed O'Conor with the first place award for the 2015 Brady Cup competition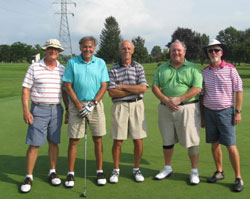 Bill Murray (right) congratulating 2015 Championship Winners (from left) Bob McFadden and Ed O'Conor and Runners-up
Jim Pawlik and Bruce Neulieb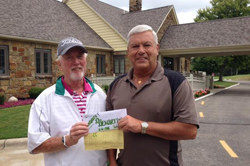 Dan DeMartinis (right) receiving congratulations from Bill Murray on his Hole-in-One at Sandy Pines on July 9, 2014 (Last MSGA tournament Hole-in-One)