Member Notes: Tippecanoe Lake C. C. –
Leesburg, in
July 10, 2017 (Monday)
Note: Normal starting time – (12:00pm CDT – 1:00pm EDT)
The fifth MSGA tournament of 2017 will be played on Monday, July 10th at Tippecanoe Lake C. C. in Leesburg, IN. Tippy Lake is always a very popular venue, so get your entries in soon.
The cut-off date for entries is July 3rd.
Please note the cut-off date. Your entries need to be received by Bill Murray seven days in advance. If you mail your entry just before the cut-off date, call or email Bill/Michelle and let them know your entry is in the mail. This not only helps Michelle prepare all the paperwork, but is required for Bill to give an accurate headcount to reserve the proper number of carts. In the past, we have had to turn down several players because of late entries and cart issues.
The format is an Individual Medal play event. Individual prizes and skins within flights will be awarded. You may sign up as a foursome or as an individual and we will place you with others to form foursomes. It's a great way to meet others who also enjoy the game of golf. Awards will be distributed at the following event. Your entry fee includes lunch and golf.
If you have any questions, call Bill Murray at 219-393-8648.
This is the seventh time the MSGA has played at Tippecanoe Lake C. C. and we look forward to a great day of golf on an excellent golf course. Tippy Lake was opened in 1926 and has many mature trees lining the fairways and many large undulating greens. Recently, the sand traps have been rebuilt along with the aprons around the greens. It is a beautiful old course that plays to a par 70. We expect more than 100 players, so get your entries in early.
For the 2017 season, the MSGA Board is continuing the flight for higher handicap players who play from the Forward Tees rather than from the Regular Tees. The fifth flight (Flight E) is for the players with handicap indexes plus age totaling 95. Only Low Net prizes are awarded for Flight E in addition to normal skins awards (no Low Gross award). The same par three tees are used by all flights, so Flight E players also participate in the Closest-to-the-Pin and Hole-in-One contests.
Players are encouraged to continue to play with their regular groups even though some players may be playing from the Forward Tees.
The sixth event on the schedule is at Chesapeake Run in North Judson, IN. on Monday July 24th. Cut-off for entries is July 17th. This will be the fourth time the MSGA has played Chesapeake Run. Members should also review the balance of the 2017 schedule to make sure they get entries in early for their favorite courses.
This year's 2017 MSGA Championship will again be held at Swan Lake Resort on August 21 & 22nd. It's never too early to find a partner and get your entry in. See the MSGA Championship page for details.
If you need a partner or have any questions, call Bill Murray at 219-393-8648.
Following event: Chesapeake Run G. C. - Monday, July 24th – Cutoff July 17th
2017 Tournament Schedule

May 15
Pottawattomie CC, Michigan City, IN
May 31
Whittaker Woods GC, New Buffalo MI
June 12
Valparaiso CC, Valparaiso IN
June 26
Island Hills GC, Centreville MI (guest day)
July 10
Tippecanoe Lake CC, Leesburg IN
July 24
Chesapeake Run GC, North Judson IN
August 7
Four Seasons CC, Crown Point IN (first time course)
August 21-22
Swan Lake Golf Resort, Plymouth IN (MSGA Team Championship)
September 6
Knollwood CC (East), Granger IN
September 18
South Bend CC, South Bend IN (final event)
Next tournament: Chesapeake Run G. C., July 24, 2017
Welcome to the website of the Michiana Seniors Golf Association (MSGA). The organization is made up of amateur senior players (age 50+) who love and enjoy the game of golf and a little competition and fellowship on some great golf courses. The Michiana area includes Northern Indiana and Southwest Michigan.
If you are a senior amateur player who enjoys playing golf on some of Michiana's premium golf courses, the MSGA is the organization for you.
All tournaments are flighted by handicap so players are playing against similarly skilled players. An additional flight is available, if players choose, for players whose age plus handicap index equals 95. The flight plays from the forward tees. Click on the tabs above to learn more about the MSGA.
If you have any questions or need more information about the MSGA, please contact Bruce Fisher (219-363-7466) or any of the Board of Directors.
Walt Ailes, President (219-462-0663)
The 2017 season is the 19th year for the MSGA and includes ten tournaments played from May thru September. Of the 2017 tournaments, six will be played at private country clubs and four at public golf courses throughout the Michiana area. The season opens at Pottawattomie C. C. in Michigan City, IN on May 15th and closes at South Bend C. C. on September 18th.
In between, there are guest days at Whittaker Woods G. C. in New Buffalo, MI and Island Hills G. C in Centreville, MI and the MSGA Championship at Swan Lake Golf Resort in Plymouth IN.
There is one course that the MSGA has not played in the past. That tournament will be played at Lakes of the Four Seasons C. C. in Crown Point, IN on August 7th.
The Board of Directors is looking forward to another great year in 2017.
Welcome New Members for 2017 Season!
| | |
| --- | --- |
| Steve Stone | Granger, IN |
| Harry Perkins | Tinley Park, IL |
| Donnie Perkins | Valparaiso, IN |
| Michael Hoffman | Granger IN |
| Ed Ferguson | Portage, IN |
| Antonino Fallucca | Chesterton, IN |
| Jeff Carmien | Bristol, IN |
| Rex Johnson | St. John, IN |
| Tom Smith | Goshen, IN |
| Ray Ginsburg | Michigan City, IN |
| Michael Hoffman | Granger, IN |
| Tim Swallers | Crown Point, IN |
| Dave Dunn | Westville, IN |
| Roy Shepard | Chesterton, IN |
| Randy Kerns | Valparaiso IN |
| Bob Dunn | Plymouth IN |
| Stu Holaway | Middlebury, IN |
| John Graft | Rochester, IN |
| Phil Weybright | Plymouth, IN |
| Paul Martindale | Plymouth, IN |
| Mike O'Malley | Livonia, MI |
| Brian Gensel | Valparaiso, IN |
| John Wendel | Plymouth, IN |
| Steve McGue | Michigan City, IN |
Welcome Returning Members!
| | |
| --- | --- |
| Al Marquardt | Michigan City IN |
2016 MSGA Championship
Champions
John Spensley & Mike Sandridge
Runners-up
Peter MacEntee & Abe Ismail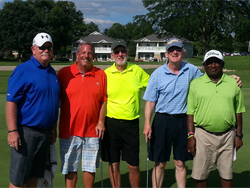 Bill Murray (center) congratulating 2016 Championship Winners (left) Mike Sandridge and John Spensley and Runners-up (right) Peter MacEntee and Abe Ismail

Bob Brady (left) receiving Recognition Award for his 16 years of Dedicated Service and Leadership to the MSGA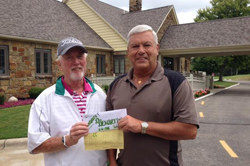 Dan DeMartinis (right) receiving congratulations from Bill Murray on his Hole-in-One at Sandy Pines on July 9, 2014 (Last MSGA tournament Hole-in-One)