The third MSGA tournament of 2015 will be on Monday, June 8th at Sand Creek C. C. in Chesterton, IN. Sand Creek is always a popular venue and the field will fill up fast, so get you entries in early. The field will be limited to the first 120 players entered. We will be playing the MARSH and LAKE nines.
The cut-off for entries is June 1st.
The format is an Individual Medal play event. The normal individual prizes and skins within flights will be awarded. You may sign up as a foursome or as an individual and we will place you with others to form foursomes. It's a great way to meet others who also enjoy the game of golf on a premier golf course. Awards will be distributed at the following tournament. Check the Tournaments page for details and directions. Your entry fee includes lunch and golf, but no dinner.
If you have any questions, call Bill Murray at 219-393-8648.
This is the third time the MSGA has played at Sand Creek and we look forward to a fine day of golf on a very highly rated golf course. Our last tournament at Sand Creek was in 2013.
Remember for the 2015 season, the MSGA Board is continuing an additional flight for higher handicap players who play from the Forward Tees rather than from the Regular Tees. To accomplish this, we increased the number of flights for each tournament from four to five. The fifth flight (Flight E) is for the players with handicaps plus age totaling 95. Only Low Net prizes are awarded for Flight E in addition to normal skins awards (no Low Gross awards).
Having a Flight E has sped up play and made the golfing experience more enjoyable for all players. Players are encouraged to continue to play with their regular groups even though some players may be playing from the Forward Tees. For more details, click on the Tournaments page above.
The fourth event on the schedule is at Tippecanoe Lake C. C. on Monday June 22nd. Cut-off for entries is June 15th with entries limited to the first 120 received. This year's tournament is the sixth time the MSGA has played Tippecanoe Lake. Tippy Lake is another very popular venue, so get your entries in early as we also expect a full field for this event. Members should also review the complete schedule to make sure they get entries in early for their favorite courses.
This year's MSGA Championship will again be held at Swan Lake Resort on August 17th & 18th. It's never too early to find a partner and get your entry in. See the MSGA Championship page for all the details.
Following event: Tippy Lake C. C. Monday, June 22nd – Cutoff June 15th.
2015 Tournament Schedule
| | | |
| --- | --- | --- |
| June 8 | Sand Creek CC | Chesterton, IN |
| June 22 | Tippecanoe Lake CC | Leesburg, IN |
| July 8 | Island Hills GC | Centreville, MI (guest day) |
| July 20 | Briar Ridge CC | Schereville, IN (first time course) |
| August 3 | White Hawk CC | Crown Point, IN |
| August 17/18 | Swan Lake Resort | Plymouth, IN (MSGA Championship) |
| August 31 | Pottawattomie CC | Michigan City, IN |
| September 9 | Bent Oak GC | Elkhart, IN |
| September 21 | Knollwood CC | Granger, IN (final event) |
*More details of each event will be posted later.
Welcome to the website of the Michiana Seniors Golf Association (MSGA). The organization is made up of amateur senior players (age 50+) who love and enjoy the game of golf and a little competition and fellowship on some great golf courses. The Michiana area includes Northern Indiana and Southwest Michigan.
If you are a senior amateur player who enjoys playing golf on some of Michiana's premium golf courses, the MSGA is the organization for you. Click on the tabs above to learn more about the MSGA. If you have any questions or need more information about the MSGA, please contact Bruce Fisher or any of the Board of Directors.
Walt Ailes, President
The 2015 season is the 17th year for the MSGA and includes eleven (11) tournaments played from May thru September. Of the 2015 tournaments, six will be played at private country clubs and five at public golf courses throughout the Michiana area. We will open the schedule at Whitaker Woods G. C. on May 11th and close the season at Knollwood C. C. on September 21st.
In between, we have guest days at Meadow Valley G. C. in Middlebury, IN and Island Hills G. C in Centreville, MI and the MSGA Championship at Swan Lake Golf Resort in Plymouth IN.
We have one course new to the MSGA in 2015. That tournament will be played at Briar Ridge C. C. in Schereville, IN on July 20th.
After testing during the 2014, we will continue to have a fifth flight that will play from the front tees in all individual tournaments. Players whose age plus handicap equals 95 may choose to play in the fifth flight.
The Board of Directors is looking forward to another great year in 2015.
Welcome New Members for 2015 Season!
| | |
| --- | --- |
| Fred Krolzick | South Bend, IN |
| Richard Lesniak | Schererville, IN |
| Timothy Eriks | Schererville, IN |
| Tim Holmes | Valparaiso, IN |
| Bryan Boettger | Crown Point, IN |
| William Perkins | Niles, MI |
| Fran Laliberte | Leesburg, IN |
| Dave Van Vlack | Michigan City, IN |
| Phil Collins | Chicago, IL |
| Mike McFerron | South Haven, MI |
| Scott Kistler | Michigan City, IN |
| Kevin Coleman | Long Beach, IN |
| Bob Hartmann | Chesterton, IN |
| Terry Bronowski | Crown Point, IN |
| Joe Simanski | Plymouth, IN |
| Greg Scheetz | Plymouth, IN |
| John Hampton | Plymouth, IN |
Welcome Returning Members!
| | |
| --- | --- |
| Frank Stimson | Ogden Dunes, IN |
| Jack Niland | Valparaiso, IN |
| Louie Slabach | Shipshewana, IN |
| Wayne Slabach | Wolcottville, IN |
| Dick Sierra | Valparaiso, IN |
| Seth Moseley | Valparaiso, IN |

Bob Brady (left) receiving Recognition Award for his 16 years of Dedicated Service and Leadership to the MSGA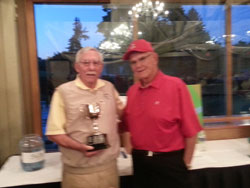 Bob Brady (left) presenting Tom Stefaniak with the first place award for the 2014 Brady Cup competition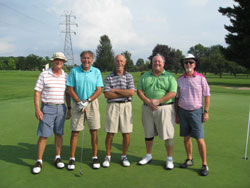 Bill Murray (right) congratulating 2014 Championship Winners (from left) Bill Gustin and John Becking and Runners-up Roger Stevens and Bruce Fisher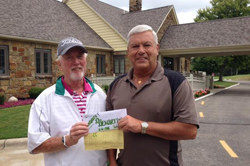 Dan DeMartinis (right) receiving congratulations from Bill Murray on his Hole-in-One at Sandy Pines on July 9th