Innsbrook C. C. (Guest Day) – August 4, 2014 (Monday)
The eighth MSGA tournament of the 2014 season will be on Monday, August 4th at Innsbrook C. C. in Merrillville, IN. This tournament is the second and final Guest Day of the season, so bring your golfing friends and introduce them to the MSGA. The Board of Directors is waiving the annual dues of $60 for all guests who join on the day of the tournament. The only cost will be the $25 application fee. New members will be eligible for the four remaining events including the MSGA's Two-Man Team Championship at Swan Lake Resort.
We expect a large turnout, so get your entries in early. If you want to play, but cannot get your mailed entry to Michelle by the July 28th cut-off date, call her at 219-393-8648.
Cut-off for Innsbrook Guest Day entries is July 28th.
The format is an Individual Medal play event. The normal individual prizes and skin games within flights will be awarded. You can sign up as a foursome or as an individual and we will place you with others to form foursomes. It's a great way to meet others who also enjoy the game of golf on a very popular golf course. Guests with USGA handicaps will participate with members in the normal prize competitions. Guests without handicaps will participate in a Callaway flight.
Awards will be distributed at the following event. Check the Tournaments page for details and directions. Your entry fee includes lunch and golf, but no dinner.
If you have any questions, call Michelle at 219-393-8648.
The MSGA has played the course four times before and found the course to be a tough challenge for the members. Our last visit was in 2012 when 95 members played. The layout is different from most golf courses in that it has six Par 3's, six Par 4's and six Par 5's. With all the great weather for golf courses this spring and summer, we expect the course to be in excellent shape.
The following event on the schedule is the MSGA's Two-Man Best-Ball Championship that will be played on August 18th and 19th at Swan Lake Resort G. C. It's never too early to find a partner and get your entry in. See the MSGA Championship page for all the details. If you want to play, but do not have a partner, we will pair you with another to form a team. Call Michelle with any questions at 219-393-8648.
At the upper right is information on Stay over Packages offered by Swan Lake Resort.
For the 2014 season, the Board has added an additional flight for higher handicap players who will play from the Forward Tees for tournaments rather than from the Regular Tees. To accomplish this, we have increased the number of flights for each tournament from four to five. The fifth flight will be for the players with handicaps and age totaling 95. Only Low Net prizes will be awarded. We believe this will speed up play and make the golfing experience more enjoyable for all players. Players are encouraged to continue to play with their regular groups even though players may be playing from different tees. For more details, click on the Tournaments page above.
Following event: MSGA Championship on Monday & Tuesday, August 18th & 19th – Cut-off date is August 8th.
Remaining 2014 Tournament Schedule
| | | |
| --- | --- | --- |
| Aug 4 | Innsbrook CC | Merrillville IN (guest day) |
| Aug 18/19 | Swan Lake Resort | Plymouth IN (MSGA Championship) |
| Aug 25 | Youche CC | Crown Point IN |
| Sept 8 | Blackthorn GC | South Bend IN |
| Sept 22 | Morris Park CC | South Bend IN (final event) |
Details of each event are posted on the Tournaments page.
Welcome to the website of the Michiana Seniors Golf Association (MSGA). The organization is made up of amateur senior players (age 50+) who love and enjoy the game of golf and a little competition and fellowship on some great golf courses. The Michiana area includes Northern Indiana and Southwest Michigan.
If you are a senior amateur player who enjoys playing golf on some of Michiana's premium golf courses, the MSGA is the organization for you. Click on the tabs above to learn more about the MSGA. If you have any questions or need more information about the MSGA, please contact Bruce Fisher or any of the Board of Directors.
Mike Gilpin, President
The 2014 season is the 16th year for the MSGA and includes twelve (12) tournaments played from May thru September. Of the 2014 tournaments, seven will be played at private country clubs and five at public golf courses throughout the Michiana area. We will open the schedule at Maplecrest C. C. on May 14th and close the season at Morris Park C. C. on September 22nd.
In between, we have guest days at Rozella Ford G. C. and Innsbrook C. C and the MSGA Championship at Swan Lake Golf Resort in Plymouth IN.
We have one course new to the MSGA in 2014. That tournament will be played at Orchard Hills C. C. in Buchanan, MI on June 9th.
With two additional tournaments this year and the addition of a flight to play from the forward tees, we believe we have increased the opportunities for our members to enjoy the game of golf.
You can check out the complete schedule by clicking on the Tournaments tab above.
The Board of Directors is looking forward to another great year in 2014.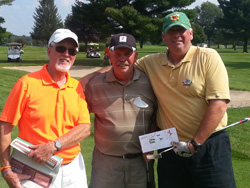 Harvey King (center) and Dave Pendergast (right) receiving congratulations and awards as Winners of the 2013 MSGA Championship from Bill Murray
Welcome New Members for 2014 Season!
| | |
| --- | --- |
| Buzz Cotton | Schererville, IN |
| Mox Irmscher | Ft. Wayne, IN |
| Ray Estes | Angola, IN |
| Tom Thorley | Valparaiso, IN |
| Ken Dowdy | Chesterton, IN |
| Art Yagodnik | Chesterton, IN |
| Pete Rumely | Granger, IN |
| Tom Tippmann | Ft. Wayne, IN |
| Mike Dexter | Crown Point, IN |
| Art Mascarello | Crown Point, IN |
| Walt Kroll | South Bend, IN |
| Tom Knoll | Laporte, IN |
| Mark Joseph | Schererville, IN |
| Gary Drutis | Hammond, IN |
| Dave Pera | Valparaiso, IN |
| Ray Brosseau | Schererville, IN |
| Tim Gericke | Schererville, IN |
| Bruce Ballow | White Pigeon, MI |
| William Vinovich | Crown Point, IN |
| Norman Michaels | Mishawaka, IN |
| John Hettwer | Ft. Wayne, IN |
| Michael Grubb | Chesterton, IN |
| Roger Presl | N. Manchester, IN |
| Steven Seward | Ft. Wayne, IN |
Welcome Returning Members!
| | |
| --- | --- |
| Biff Geiss | Valparaiso, IN |
| Art Branko | Schererville, IN |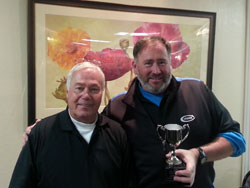 Mike Gilpin (left) presenting Dave Pendergast
with the first-place trophy for the 2013 Brady
Cup challenge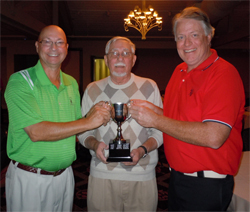 2012 Brady Cup Co-Winners Bruce Fisher (left) and Mike Robinson (right) accepting congratulations from Bob Brady
at the awards presentation